A more in depth look at the HKS stroker kits available.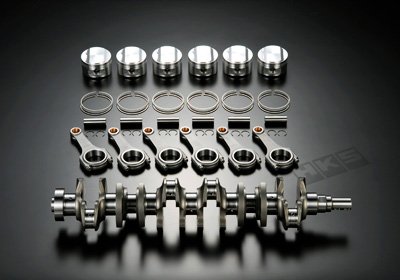 【Capacity Upgrade Kit RB26DETT 2.8L Step 0】
In addition to the increased displacement by the effect of 2.8L, STEP ZERO is the best solution for engines that require better response.
The target of maximum revolution is the best for stock or GT-SS turbine with greatly improved response.
The affordable price allows usage just for engine overhauling.
Features
<POINT-1>

It is optimized for target turbines and rpm. Although it is full counter, the ultra lightweight design achieves quicker response than ordinary STEP1 or STEP2.

<POINT-2>

Full counter design decreases load on metals. The pitch of both connecting rod ends are not changed as ordinary kits, and the stroke is adjusted by piston height. This design is less side pressure, less friction and more durable than other manufacturers' 2.8L stroke kits that change the pitch between both ends.

<POINT-3>

Newly designed φ86.5 piston.
Piston bore can be selected depending on engine block condition for φ86.5 or φ87.0.

<POINT-4>

All MADE IN JAPAN (HKS in-house production).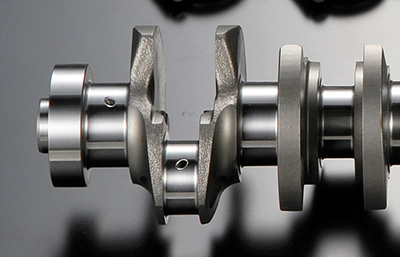 Ultra lightweight full counter crankshaft
Select appropriate HKS 2.8L Kit from 3 types of the vehicle specification.
(Target Spec of each STEP.)
|   | Target RPM | Target Turbine |
| --- | --- | --- |
| STEP ZERO | 8000rpm | Stcok/GTIII-SS |
| STEP1 | 8500rpm | GTIII-RS |
| STEP2 | 9000rpm | GTIII-RS/GTIII-4R |
"STEP ZERO" is recommended for stock or GTIII-SS turbine as more power cannot be output at more than 8,000rpm, and STEP ZERO has the best response.
Since the power output range of GTIII-RS is shifted to higher rpm than GTIII-SS, in order to have wider power output range, "STEP1" that has maximum rpm of 8500rpm is recommended. If budget allows, "STEP2" is recommended for better response.
For a turbine which power band shifts to a high speed range like GTIII-4R, to secure a wide power band range, "STEP2" is recommended since the engine can run up to 9000rpm with STEP 2.
5-point Scale Based on HKS Standards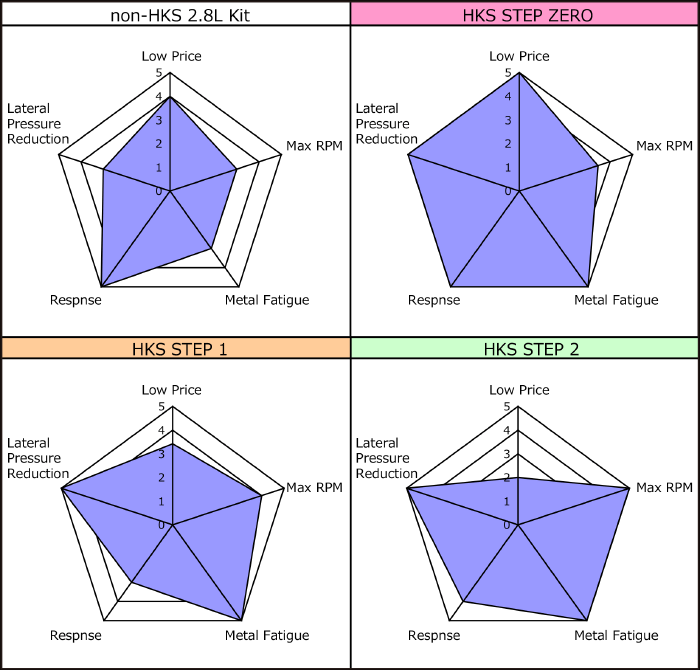 * "5" is the highest score in this chart.