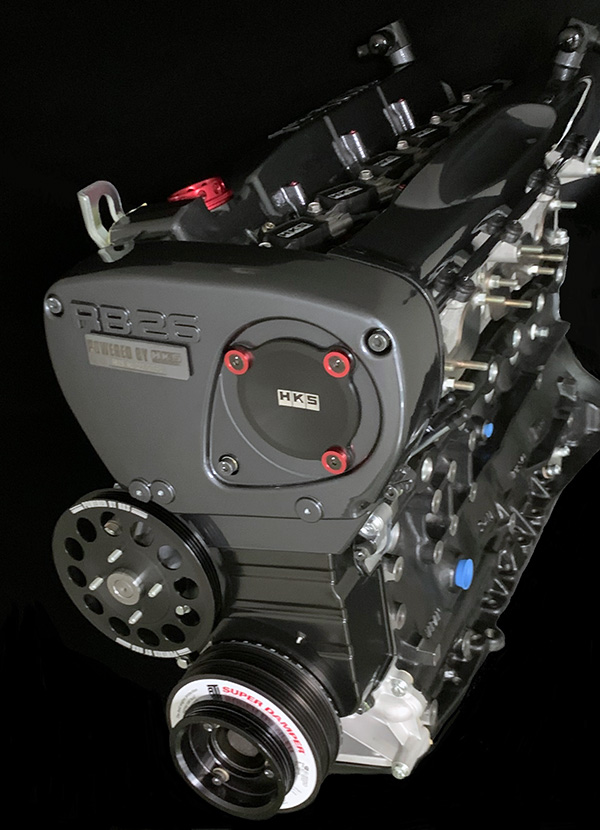 [COMPLETE ENGINE for
RB26DETT 2.8L HIGH RESPONSE V-CAM]
V-CAM Pro has been added to the RB28 HIGH RESPONSE ENGINE to accelerate the rise of boost pressure and further improve the response.
Improved signal accuracy with a dedicated crank angle sensor for 36 teeth and a sensor for V-CAM

Furthermore, the EX side cam opening is widened to 272 ° to ensure stress-free elongation up to high rpm.

Reciprocating engine that is both lightweight and highly rigid with a focus on response

Titanium retainer, reinforced valve spring, high lift cam, reinforced stem seal, valve system that draws power up to high rpm

Crank damper that suppresses the torsional vibration of the crank while being lightweight

Combustion chamber shape optimized by NC processing to suppress knocking

Uses a proven large-capacity reinforced oil pump to ensure stable hydraulic pressure over the entire rotation range.
* It is recommended to use HKS Racing Pro 10 W50 as the engine oil.
High-rigidity lightweight piston machined from A2618 material with high high-temperature strength

 

Dedicated crank with counterweight reduced to the limit

Dedicated lightweight pin expanded to φ22 to cope with high combustion pressure

Separator that stops the outflow of oil with multiple partitions

Changed to the optimum shape to suppress NC processing and knocking of the
combustion chamber * The shape that makes the best use of squish by reducing the volume of the combustion chamber as much as possible

Crank angle sensor for V cam 36-2 teeth

INTAKE: V-CAM STEP Pro
EXHAUST: STEP2 272 °
Specifications
|   | HKS 2.8L KIT | genuine |
| --- | --- | --- |
| Boa | 87.0mm | 86.0mm |
| stroke | 77.7mm | 73.7mm |
| Allowable rotation speed | 9,000 rpm | 7,600 rpm |
| Displacement | 2,771cc | 2,568cc |
COMPLETE ENGINE RB26 2.8L HIGH RESPONSE V-CAM
Camshaft

IN: HKS V-CAM STEP Pro 264 ° / LIFT 10mm

EX: HKS STEP2 272 ° / LIFT 10mm

Cam pulley

HKS SLIDE CAM-PULLEY (EX side)

Timing belt

HKS Fine Tune Timing Belt Sport

Spring retainer

HKS Titanium Product (Weight: 9.2g)

Valve spring

HKS reinforced product

Stem seal

HKS reinforced product

valve

IN: Genuine EX: 1mm big valve (with sodium)

Valve spring

HKS reinforced product

Stem seal

HKS reinforced product

Head processing

Combustion chamber machining (squish residue),




sheet: beryllium / guide: phosphor bronze,




stepped removal / polishing around the sheet, cam relief,




water jacket air vent hole processing

Head gasket

HKS Grommet Super Cooling (t = 1.2)

Head bolt

HKS reinforced bolt

Block (24U)




processing content

Surface grinding (correcting parallelism with the main journal),




water hole processing, chamfering of deck surface holes (countermeasures against cracks),


edge removal processing at the bottom of

 

the

 

cylinder, boring

Oil pump

HKS reinforced product

piston

HKS machined bridge structure

Connecting rod

HKS machined H cross section

Crankshaft

HKS machined full counter

Main bearing bolt

APR reinforced stud bolt

Main bearing

ACL

Connecting rod bearing

ACL

Crank angle sensor

36-2 tooth crank direct mounting

Ignition system

SUPER FIRE RACING COIL Pro

Crank damper

ATI




W / P pulley: Φ146




rib belt: 4PK875,4PK910,4PK925

Covers

Baking paint finish