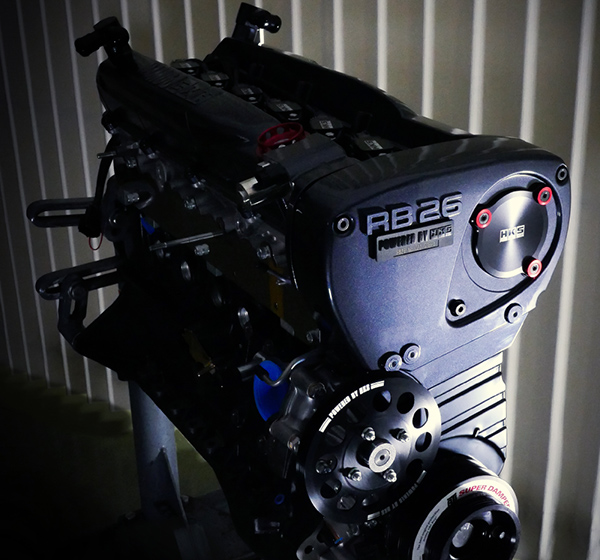 [Complete engine RB26DETT 3.0L STEP3 V-CAM]
The pinnacle model of the RB26 complete engine.
Newly developed 2-piece piston realizes increased stroke and connecting rod length while maintaining block height.
The 3.0L dedicated crank is a full counter machined from nitriding steel, and ion nitriding treatment has increased the surface hardness to the limit and improved fatigue strength.

In preparation for higher torque, a dedicated I-section connecting rod is used to improve buckling strength by 36%. In addition, we also adopted a φ22 thicker piston pin.

As a countermeasure against the heat generated by the high power output, the valve guide and seat materials have been changed, and a sodium-filled EX valve and a piston with a cooling channel have been adopted.

The 36-tooth dedicated crank angle sensor and crank angle sensor for V-CAM have improved signal accuracy in the high revolution range.
*It is recommended to use HKS Racing Pro 10W50 engine oil.
Dedicated full counter crank

Dedicated I-beam connecting rod with 36% higher buckling strength and 6mm longer shaft distance

Changed the valve seat to beryllium and the guide to phosphor bronze to improve the heat transfer performance of the valve.

By making the piston two pieces and raising the pin position, it became possible to reduce the compression height. This made it possible to lengthen the connecting rod and increase the length of the rod without increasing the deck.
In addition, the piston is super lightweight at 313g and has a cooling channel for oil cooling.

2-piece piston

V CAM dedicated crank angle sensor 36-2 teeth

IN side: V CAM STEP Pro
EX side: 280° STEP2
Reinforced blow-by separator reduces oil take-out
Specifications
|   | HKS 3.0L(V-CAM) | genuine |
| --- | --- | --- |
| boa | 87.0mm | 86.0mm |
| stroke | 84.0mm | 73.7mm |
| Compression ratio (t=1.2) | 8.7 | - |
| Allowable rotation speed | 9,000rpm | 7,600rpm |
| Displacement | 2,996cc | 2,568cc |
COMPLETE ENGINE RB26 3.0L STEP3 V-CAM
camshaft

IN:HKS V-CAM STEP Pro 264°/ LIFT 10mm
EX:HKS STEP 2 280°/ LIFT 10mm

blow-by separator

IN/EX HKS reinforced product

cam cover

HKS RB30 only (EX side)

cam pulley

HKS SLIDE CAM-PULLEY (EX side)

Timing belt

HKS Fine Tune Timing Belt

spring 

retainer

HKS Titanium

valve

IN: Genuine 

EX: 1mm big valve (filled with sodium)

valve spring

HKS reinforced product

stem seal

HKS reinforced product

head processing

Combustion chamber machining (remaining squish), 

Sheet: Beryllium/Guide: Phosphor bronze,




Step removal and polishing around the sheet, Cam escape processing, 

Water jacket air vent hole processing

head gasket

HKS grommet super cooling type (t=1.2)

head bolt

HKS reinforced bolt

Block (24U) 

processing details

Surface grinding (parallelism correction with the main journal), 

water hole processing, deck surface hole chamfering (crack countermeasures),




edge removal processing at the bottom end of the cylinder, boring

oil pump

HKS reinforced product

piston

HKS 2 piece machined

connecting rod

HKS I section axis distance: 127.5mm

Crankshaft

Nitriding steel machined full counter 

ion nitriding treatment

main bearing

ACL

connecting rod bearing

ACL

crank angle sensor

36-2 tooth Crank direct attachment

Ignition system

HKS Super Fire Racing Coil PRO

crank damper

ATI 1000PS specification




W/P pulley: Φ124 (ATI)




rib belt: 4PK850, 4PK910, 4PK925

covers

baked paint finish