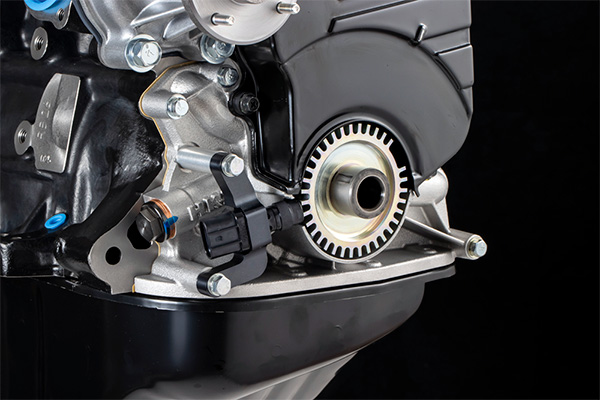 By setting the crank angle sensor and cam angle sensor respectively, the crank angle signal is recognized with high accuracy, the range of settings is widened, and the original potential of RB26 is drawn out.
Cam angle sensor cover (for no V cam)

Cam angle sensor cover (for V cam)

Dedicated crank angle sensor
Features
This is a proven kit used in the HKS complete engine (RB28 HIGH RESPONSE / STEP3 V CAM).

By attaching a special mounting bracket, a special harness, and a cover for the sensor part, we are particular about the ease and aesthetics of mounting.

By setting the crank angle sensor and cam angle sensor respectively, the deviation of the ignition timing due to the unstable reading of the genuine sensor, which is the weak point of RB26, is suppressed and misfire in the high rpm range is prevented.

By renewing the sensor part, engine startability, stability at idling, feeling of rising, and throttle response are greatly improved.

By resetting the fuel and ignition timing according to the improvement of sensor accuracy, it is expected that the output will be improved by about 5 to 7%.

The coil is compatible with both genuine coil and Super Fire Racing Coil Pro.
Rotation signal runout (genuine sensor: top, HKS sensor: bottom)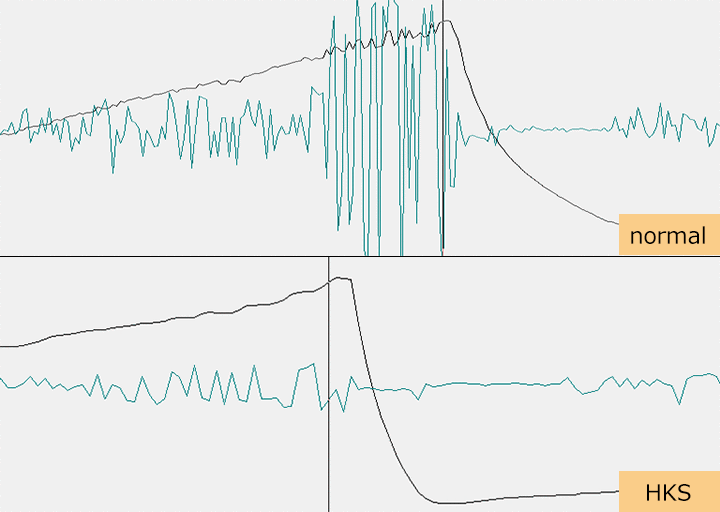 Black: Rotation speed, Green: Rotation change
The genuine sensor has runout in the high rotation range. With the HKS sensor, there is little runout, and it is possible to accurately recognize the ignition timing in the high rpm range and make finer settings. It protects the engine and brings out the original performance of the RB26.
Notes
To install this kit, it is necessary to use it together with an ECU that can set sensors such as F-CON V Pro.

This product requires highly specialized knowledge such as installation and setting. Incorrect installation or setting may cause serious trouble such as engine damage. Please contact us at your nearest 

HKS POWER WRITER SHOP

 for installation.

Please note that the compatible kit will change depending on whether or not the V cam kit is installed.